DESKA SNOWBOARDOWA CAPITA SPACE METAL FANTASY 2020
Damska deska snowboardowa CAPITA Space Metal Fantasy pięciokrotnie sięgnęła po nagrodę GOOD WOOD za najlepszą parkową deskę, co już jest mocną recenzją! SMF to miękka, łatwa do jazdy deska, która wybacza błędy i zapewnia niesamowitą przyjemność z jazdy. 
Riderka
Space Metal Fantasy to doskonała deska snowboardowa dla początkujących oraz fanów jazdy miejskie lub jibowej. Deska świetnie sprawi się również w puchu.
Konstrukcja
Profil PARK V2 to deska to rockerowa z flatem na środku deski, co daje nam bardzo dobre czucie oraz łatwość inicjacji zakrętów. Space Metal Fantasy wybaczy błędy czyli bardzo trudno złapać na niej krawędź, dzięki czemu jest to idealna deska dla osób początkujących.
---
| | |
| --- | --- |
| DŁUGOŚĆ: | 141 |
| FLEX: | 4 |
| PROFIL DESKI: | ROCKER |
| STYL JAZDY: | PARK/URBAN |
| ŚLIZG: | TŁOCZONY |
| KSZTAŁT DESKI: | TRUE TWIN |
| SZEROKOŚĆ: | STANDARDOWA |
| TALIA: | 23.1 CM |
| MAX STANCE: | 56.0 CM |
| KRAWĘDŹ EFEKTYWNA:  | 108.1 CM |
| PROMIEŃ SKRĘTU: | 6.80 |
| WAGA RIDERA: | 41 - 64 KG  |
---

---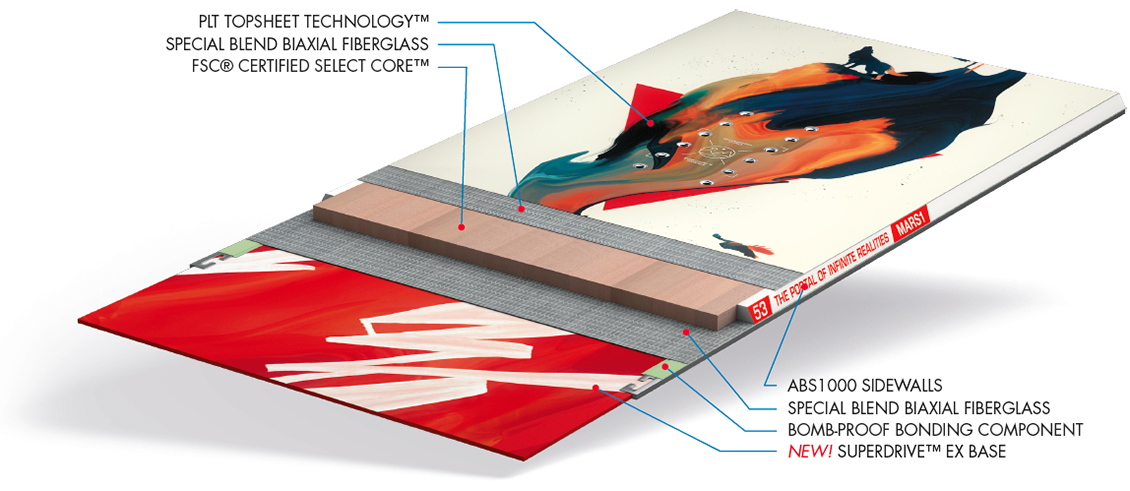 FSC® CERTIFIED SELECT CORE™ - lekki rdzeń z topoli. Drewno z certyfikatem FSC®
NEW! SUPERDRIVE™  EX BASE - nowy tłoczony ślizg, który posiada charakterystykę ślizgu spiekanego. Prawie tak twardy jak spiekany, dzięki czemu jest szybki, ale nie wymaga tak pieczołowitej konserwacji.
PLT TOPSHEET TECHNOLOGY™ - najlżejszy na laminat na rynku, technologia stworzona i wykorzystywana tylko w deska CAPITA. Sprawia, że grafika jest bardzo wytrzymała, Przy produkcji nie wykorzystuję toksycznych lakierów w przeciwieństwie do większości marek na świecie.
SPECIAL BLEND FIBERGLASS - klasyczny podwójny splot włókna szklanego, lecz wykorzystujący żywicę MAGIC BEAN™, która wytwarzana jest w 60% z recyklowanych biokomponentów i dzięki swoim właściwością pozwala na zmniejszenie wagi deski!
360 DEGREE HRC48 STEEL EDGES - stalowe krawędzie.
4 x 2 INSERTS - standardowy rozstaw insertów 4x2.
---
MADE IN AUSTRIA
CAPITA jako jedna z niewielu marek na świecie posiada własną fabrykę, która w połączeniu z pracownikami z ponad 20 letnim stażem pracy sprawiają, że z fabryki CAPITA Mothership wychodzą jedne z najlepszych desek snowboardowych na świecie.
Fabryka nie emituje dwutlenku węglą do atmosfery i kładzie duży nacisk na ekologię. Wszystkie materiały do produkcji desek, są wytwarzane w odległości maksymalnie 300 km od fabryki, co pozwala dodatkowo zmniejszyć emisję CO2 do atmosfery pochodzące z transportu.
Size

:

147

Flex

:

soft

Profil

:

rocker

Base

:

extruded

Style

:

all mountain

,

freestyle

,

park

Collection

:

Winter 2020



Produkty podobne
New
CAPITA Super Metal Fantasy 143 snowboard
340
91
EUR
23863 EUR
1500

PTS
New
CAPITA Paradise 145 snowboard
386
36
EUR
27045 EUR
1700

PTS
Promo
New
CAPITA Space Metal Fantasy 151 snowboard
340
91
EUR
23863 EUR
1500

PTS