Jak prawidłowo dobrać rolki do rozmiaru stóp
Jest to najważniejszy moment przy zakupie rolek. W żaden sposób Twoje stopy nie mogą być narażone na obtarcia, odparzenia, a nawet rany cięte. Jazda na rolkach to przyjemność i tak powinno pozostać.
Podczas dobierania rozmiaru należy pamiętać o przymiarce w godzinach popołudniowych lub po aktywności fizycznej. Krew napływa do stóp, naczynia się rozszerzają, noga staje się większa i obszerniejsza. Należy dodać, że rozmiar stóp jest różny dla lewej i prawej nogi. Rolki należy dobierać do nogi większej. Najbezpieczniejszym sposobem dobrania rolek, nawet na odległość, bez możliwości bezpośredniej przymiarki jest dobór metryczny. Mierzymy stopy w najbardziej wystających częściach nogi - pięty oraz najdłuższego, przeważnie dużego palca.

Przy mierzeniu musimy pamiętać o położeniu stopy mocno ją obciążając. Wypychamy kolano do przodu, aby stopa prawidłowo osiadła i prawidło dokładnie pokazało jej długość. Na zdjęciu widzimy nieprawidłowe pokazanie bez obciążenia stopy.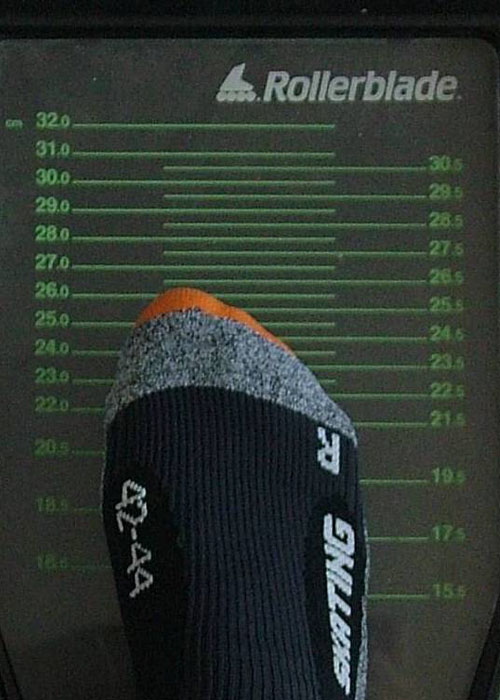 Wskazuje 263mm czyli rozmiar rolek dla tak ułożonej stopy to 265mm.
Bardzo się pomylimy w tym wypadku. Poniżej prawidłowo położone stopy - widać jak stopa się "rozpłaszczyła" i przez to stała się dłuższa.
Lewa noga wskazuje 265mm, a prawa 266mm - czyli jak widać skoczyła o 3mm zmieniając rozmiar na wyższy!
Czyli prawidłowy rozmiar rolek dla tych stóp to 270mm, a nie jak wcześniej pokazywało 265mm. Oczywiście stopy mierzymy w skarpetkach, w których będziemy jeździć.